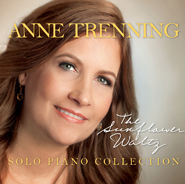 Composer and pianist Anne Trenning performs a dynamic, inspiring and hopeful set of solo compositions on the Shigeru Kawai Piano — one of the world's most finely crafted instruments — to create The Sunflower Waltz.

Anne's fourth collection includes ten melodically and rhythmically diverse new pieces and solo piano re-imaginings of six previously released songs.

Now available at iTunes, Amazon, and CD Baby.
---
"Trenning's control of tonal shading and nuance is stellar…"
Bill Binkelman of Wind and Wire

"Anne has gifted us with sixteen original piano solos…"
Kathy Parsons of Mainly Piano

"A showcase for Anne's technical virtuosity at the piano…"
Michael Diamond of Music and Media Focus

"This is a pianist whose writing and playing have
a wonderful sense of line and flow."
All Music Guide
---
Don't miss Vivek Kumar's interview with Anne on the website 2indya.